What is Letstick™ Stickers for Kangoo Jumps?
Letstick™ is kit of high quality Stickers for Kangoo Jumps.
How can I be sure it will fit my boots?
Letstick™ currently custom made Stickers for Kangoo Jumps XR3 model with different sizes.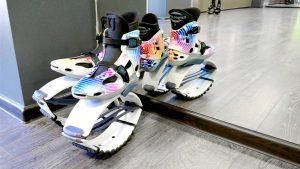 How I put Letstick™ on my boots?
You just peel Letstick™ off base and stick them to your boots. Then you need to use normal hair drier to activate Hot Wrapping System for best performance. Check this page for video instruction.
Is it hard to use Letstick™?
For first time it might be, but every time you will put new Letstick™ it's going to be easier for you.
Can I damage my boots with Letstick™?
No. You can put on and take off Letstick™ anytime, without any damage for your boots. For best result we recommend wipe surface with basic nail polish removal, before and after your apply Letstick™.
View this post on Instagram
How long Letstick™ last on my boots?
It's all depends on wrapping process and way of usage. If you will care about boots and avoid dropping, scratching or other hard impacts it will last longer.
How often can I change Letstick™ Stickers for Kangoo Jumps on my boots?
You can change  Letstick™ anytime. Depends of your mood and occasion. Letstick™ it is accessorize to make your experience brighter. 
Can I buy several Letstick™ and mix parts on my boots?
Yes, feel free to do so.
Can I order Letstick™ with my own design?
Yes, you can. Please, contact us for details. Price depends on quantity.
How can I pay for Letstick™?
You can pay with PayPal or your debit/credit card, check this page for details.
How I will receive my Letstick™?
We are happy to offer you FREE WORLDWIDE SHIPPING! It's coming with normal post to your mailbox or post office. Also we have Express shipping options. Please, check this page for detail.

¿Cómo me pongo Letstick ™ en mis botas?
Simplemente despega Letstick ™ de la base y pégalo a tus botas. Luego necesita usar un secador de pelo normal para activar el sistema de envoltura en caliente para un mejor rendimiento. Revise esta página para instrucciones de video.
¿Es difícil usar Letstick ™?
Podría ser la primera vez, pero cada vez que pongas un nuevo Letstick ™ será más fácil para ti.
¿Puedo dañar mis botas con Letstick ™?
No. Puedes ponerte y quitarte Letstick ™ en cualquier momento, sin ningún daño para tus botas. Para obtener los mejores resultados, recomendamos limpiar la superficie con la eliminación básica de esmalte de uñas, antes y después de aplicar Letstick ™.
¿Cómo recibiré mi Letstick ™?
¡Nos complace ofrecerle ENVÍO MUNDIAL GRATUITO! Viene con una publicación normal en su buzón de correo o en la oficina postal. También tenemos opciones de envío expreso. Por favor, revise esta página para más detalles.
¿Cuánto tiempo dura Letstick ™ en mis botas?
Todo depende del proceso de envoltura y la forma de uso. Si le importan las botas y evita caer, rascarse u otros impactos duros, durará más tiempo.
¿Con qué frecuencia puedo cambiar los adhesivos Letstick ™ para los saltos de Kangoo en mis botas?
Puedes cambiar Letstick ™ en cualquier momento. Depende de tu estado de ánimo y de la ocasión. Letstick ™ es un accesorio para hacer que tu experiencia sea más brillante.
¿Puedo comprar varios Letstick ™ y mezclar partes en mis botas?
Sí, siéntete libre de hacerlo.
¿Puedo pedir Letstick ™ con mi propio diseño?
Sí tu puedes. Por favor, contáctenos para más detalles. El precio depende de la cantidad.
¿Cómo puedo pagar por Letstick ™?
Puede pagar con PayPal o con su tarjeta de débito / crédito, consulte esta página para obtener detalles.